DIA Precinct Parking Map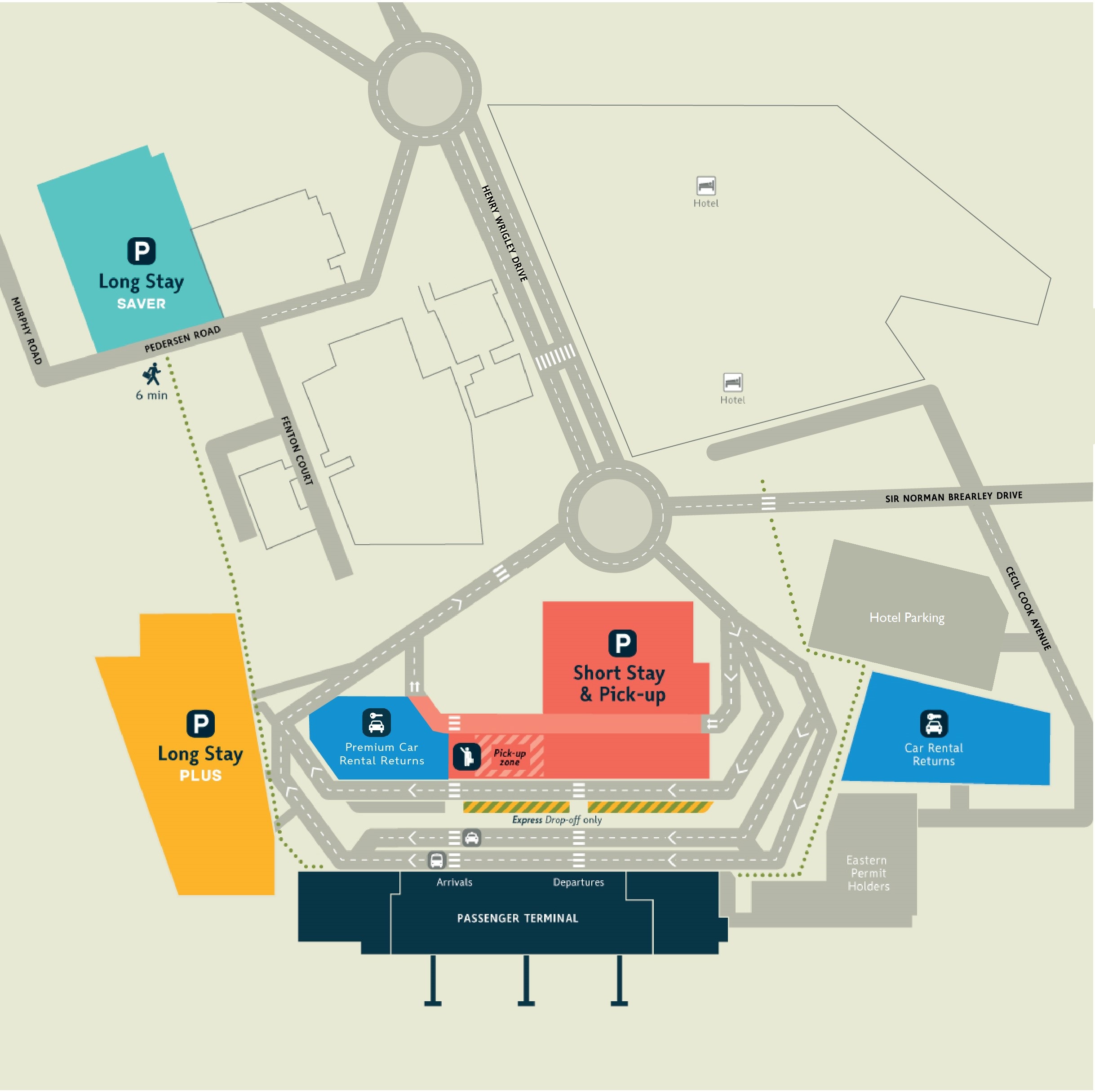 Got a question? Check out our Parking FAQs here.
Where can I stop to pick up or drop off a passenger?

There is a dedicated passenger drop off lane at the front of the Short Stay car park. For security reasons, vehicles dropping off passengers at the front of the terminal must be attended at all times and must not exceed the 2 minute limit. Any vehicle left unattended will be subject to an immediate fine and may be towed.
Where drivers need to leave their vehicle, or wait for longer periods, where the passenger is not ready for an immediate drop off or pick up, then they must use one of the designated car parking areas. We recommend the Short Stay car park where you can park for 10 minutes for free.

How far is the terminal from the car park?

Parking at our Short Stay & Pick Up car park is adjacent from the terminal building, a 1-2 minute walk.

Parking at the Long Stay Plus car park is 3-5 minute walk.

Parking at the Long Stay Saver car park is a 6 minute walk, or catch the free shuttle bus.

How do I enter and exit the car park?

The camera will read your number plate and boom gate will lift. 

For any issues entering or exiting press the assistance button.

I do not have a credit card, how can I pay for my car parking?

You can pay for your car parking by cash at any of our pay stations within the terminal and the Long Stay Saver Car Park. Payment at the exit gates is via Mastercard or Visa only.
 
Online bookings are payable via credit card only.

Do I have to park in the car park that is mentioned on my booking?

Yes, as your booking will only work on the car park selected. It is important that you park in the correct car park to avoid being charged again. Details of the car park you have booked can be found on your booking confirmation email.

What happens if I forget or lose my QR Code?

Our online booking system recognises your number plate first, if the boom gate does not raise on drive-up, please press the intercom button at the car park entry and identify yourself to the operator who will manually check your booking. Alternatively, you can have your booking confirmation resent to you via the Manage my Booking function.

My booking isn't being recognised, the boom gate won't open and the machine is telling me to take a ticket?

Please check that your entry date and time are correct, if you're too early for your booking, it won't be recognised and the car park won't allow you in with the booking. If you are within the booking time, please take a ticket and email your booking details to parking@darwinairport.com.au and we will confirm the details. Alternatively, you can press the intercom button at the car park entry and the operator will be able to assist you.

I entered a different registration number on the online booking to the one I am entering the car park on – what happens?

You will still be able to enter the car park if you have a different vehicle or different registration number to the one you nominated online.  You do not need to update this on your booking in order to park your car.  You only need the QR Code sent to you on your booking confirmation. 

We ask for your registration as an easy way to identify your booking for a quick solution and to get you away faster.

I've booked online for a specific period of time and my trip has been extended – what happens?

That's not a problem, on exiting the car park it will automatically work out the difference in price between your existing booking and the additional time, you will then be charged accordingly, at standard car park rates.

We have some allowances in place for delays outside of your control, if you believe you have been overcharged, please contact us at parking@darwinairport.com.au with your relevant flight and car park booking details.

My trip was shorter than the period of time that I booked my car parking for – can I have a refund?

No refund will be made if your stay is shorter than the booking period

What is your cancel or refund policy on booking online?

You may cancel for any reason and obtain a refund at any time, up to 2 hours before the start of the booking period, by logging into your account and selecting the relevant options. Refunds are only made to the credit card that paid for the booking
 
If you do not have an online account or you have been unable to successfully cancel your booking via your online account, then you may cancel your booking by emailing parking@darwinairport.com.au and providing your full name and booking confirmation
  
You will be charged in full for your booking if you have not cancelled it within 2 hours of the start of the booking period.

When I book online for parking will I be charged straight away or when I exit the car park?

Your credit card will be charged at the time of booking to confirm your discounted price.

Where can I find the Booking Online Terms and Conditions?

View the Terms and Conditions of Parking.

I work at the airport and would like to know where the bike racks are located.

There are six bike racks located within the Western Permit Holders car park, to the west of the Short Stay Car Park, they are not under cover. If you require secure storage for your personal effects there are baggage lockers available for hire within the walkway shelter in the Short Stay Car Park. 

Is there a car wash facility at Darwin Airport?

There are currently no car wash facilities at Darwin Airport.

The closest facility is Crystal Clean Car Wash & Detailing, 1/265 Bagot Rd, Coconut Grove NT.

Can I park my caravan/trailer/boat with my car?

You can book your car and caravan/trailer/boat online with us.

Bookings for caravan/trailer/boat are only available when you have a car attached to the caravan/trailer/boat.

You can complete your booking online for your car and caravan/trailer/boat by choosing your dates and using the 'Car & Caravan' product displayed under the carparks options. Parking is located in Long Stay Saver.

When parking, please utilise the double length bays at the rear of the car park.

How much to park a motorcycle?

The same rates apply for parking a motorcycle as a car.

Are there any height restrictions to your car parks?

Short Stay: 4.2m
Long Stay Plus: 4.7m
Long Stay Saver: 4.3m

How can I pay for parking?

You can make payment with either cash or credit card at any of the pay stations on the ground floor of the Terminal, under the locker shelter in the Short Stay Car Park or at the Long Stay Saver Car Park.

Alternatively, you can pay at any of the exit stations by credit card only.

No cash is accepted at the car park exits.

Parking costs are calculated from your time of entry into the car park.

Can I get a tax invoice for my parking fee?

A tax invoice/receipt is automatically generated at the pay stations and exits if you pay by credit card.

If you have paid by cash at the pay station and require a tax invoice, please press the 'Receipt' button after you have inserted your entry pass.

If you have any issues retrieving your tax invoice after pressing the 'Receipt' button, please press the 'Help' button for our Call Centre to send a copy of your receipt via email.

Please email us at parking@darwinairport.com.au with your vehicle registration, entrance and exit dates and amount paid. 
 

Where and how do I pay a parking infringement notice?

Parking Infringement Notices (PINs) can be paid by:

Cash payments
Terminal Control Centre 
Darwin International Airport 
Gate A, 1 Henry Wrigley Dr, Eaton NT 0820

Over the phone credit card payments
T: +61 8 8920 1815
8.00am and 4.00pm Monday to Friday
(except public holidays)
 

If you are the registered owner of a motor vehicle and believe you have unduly served with a PIN, an application for revoke can be downloaded below. Completed applications should be returned to parking@darwinairport.com.au or PO Box 40996, Casuarina NT 0811.

What if I have lost my ticket?

If you have lost your entry ticket, press the intercom button on the pay station. You will be asked for your vehicle registration number and which car park you are parked at.

Do you offer disabled parking?

A number of designated disabled car park spaces are conveniently located on either side of the pedestrian walkways within the Short Stay Car Park, and at the entrance of the Long Stay Plus Car Park.

Please contact us to make a booking to utilise the offer we have available as described in our disability facilitation plan.